Weather forecast La Val Alta Badia
The weather today: tuesday, 26 September 2023
High pressure conditions.
Very sunny and mild, only few cirrus clouds.
After a fresh morning warm in the afternoon with maximum temperatures from 22° to 26°.
The weather tomorrow: wednesday, 27 September 2023
The mountain weather today (Dolomites)
High pressure conditions.
Very good conditions on the mountains, sunny all day long, only some cirrus clouds.
The mountain weather tomorrow (Dolomites)
Evolution weather in South Tyrol: Mostly sunny and warm
Wednesday again very sunny. Thursday only partly sunny with some clouds moving through. On Friday again a lot of sunshine. Saturday still sunny conditions.
Tomorrow

T. max: 22 / 27 °C
T. min: 6 / 12 °C
thursday

T. max: 21 / 26 °C
T. min: 6 / 13 °C
friday

T. max: 23 / 28 °C
T. min: 7 / 13 °C
saturday

T. max: 22 / 27 °C
T. min: 7 / 14 °C
sunnday
T. max: 22 / 27 °C
T. min: 7 / 14 °C
South Tyrol weather today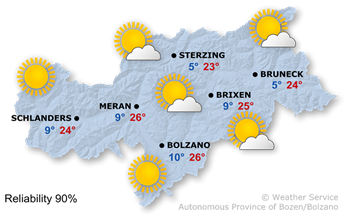 South Tyrol weather tomorrow
Update at 11:00 am
Source: © Weather Service Province Bolzano - South Tyrol